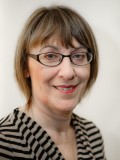 Madeleine McGrath
Managing Partner
Madeleine has devoted her working life to helping people improve and make a better contribution in their jobs and, sometimes, in their lives. After an early career in the rough and tumble of manufacturing, she encountered Tom Peters at one of his legendary Skunk Camps in 1988, and she's been working with his business ever since.
Madeleine has been a main player in the development of learning and development programs that sit alongside Tom's ideas on business excellence. Designing workshops that connect Tom's ideas with work realities is her real forte. The advent of the internet has drawn her into the world of e-learning.
People find her learning events to be hard work, as well as fun, challenging, and worthwhile. Madeleine has had a hand in the development of many of the implementation tools and programs that are at the root of Tom Peters Company's work in businesses such as Virgin, The One Account, Avon Rubber, and Rolls-Royce Aerospace.
In her spare time Madeleine takes herself far too seriously. She is an active member of the BBC Symphony Chorus, and the Royal Opera House Thurrock Community chorus, performing regularly in both.