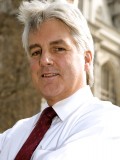 Richard King
Managing Director
Richard King was a founding partner in the London Office of the Tom Peters Company and has been working with Tom Peters since 1988. Richard spent the intervening fifteen years between university and his first face-to-face encounter with Tom Peters in various positions in the steel, oil, and automobile industries. This experience has left him acutely aware of the need to be "worth his wages" and generate value added for his clients by helping them to improve their contribution to their business's success.
Richard has developed a strong practice using the full suite of Tom Peters Company's consulting approaches and development tools coupled with his personal skills and perspective on excellence. Close colleagues say that his biggest personal "it" is an innate ability to quickly grasp and summarize his client's current position and future business interests. This is used to design heavily customized interventions and to underpin effective improvement actions.
Richard focuses particularly on top-level culture, mindset, alignment, and engagement projects, working with executive teams and individual leaders alike. His business perspective has led to his being increasingly used by his clients in a variety of different strategic advisory roles, including executive coaching, non-executive directorships, and as Chairman of Hull Esteem Consortium Ltd. His calendar evidences an ability to build strong and lasting relationships, with Tom Peters, with TPC colleagues, and clients alike.
Richard is especially proud of the longevity and closeness that typifies his client relationships with senior executives in a wide variety of enterprises, including the Purchasing Operations Director at Rolls-Royce Aerospace, the Executive Director for Regeneration at Hull City Council, the CEO at Virgin Money, the CEO at Avon Rubber plc, the MD of UK Private Banking at Credit Suisse, the South East Regional Executive Director at the Homes and Communities Agency, and the CEO of Ascertiva Group. Typically, his involvement is focused on periods of change and business transformation, be that within an executive team, a business function, or a whole business.
Richard's education began in the streets and schools of the hastily relocated working class communities of post war East London and Urban Essex. He graduated from Brunel University with a first degree in Metallurgy and went on from there to qualify as a Tribologist. He professes that his academic qualifications have had little relevance in an adult life spent studying excellence and understanding how people relate and work together to create excellent outcomes, while doing his best to raise a family, be a responsible member of the local community, chair his local Rugby Club, and help build a distinctive international professional services firm under the Tom Peters brand!
In his private life, Richard has three obvious passions; sport (mainly football and rugby), music, and his friends and family. He claims to have played a decent game of football up to the age of 37 and is a passionate supporter of West Ham United. His wide musical taste ranges from 60s pop to light classical and he takes in the BBC Proms whenever he can get tickets. Socially, he enjoys the company of a wide circle of friends from many different walks of life. He lives in Billericay in Essex with his wife Sue. Their two sons, Will and Tom, have both been away at university and returned to live nearby with their respective partners, Sarah and Stephanie.